The fourth issue of
Queen Sonja
came out a couple of weeks ago and I figured I would have been beaten to the punch long before now, but Mikey must be asleep at the wheel. So here's my impression of this series that seems a little too much like a weak version of King Conan.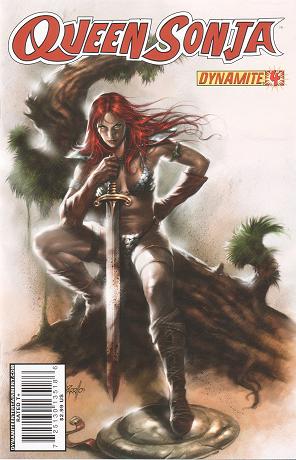 Mel Rubi's art still just seems...well, less good than the other artists who have worked on the various Sonja titles. It's not horrible, and certainly better than nothing, but when you have great art like the work in
Wrath of the Gods
, Mel's art just seems even less good.
Here are a couple of the pages that I thought were among the better illustrated in this issue: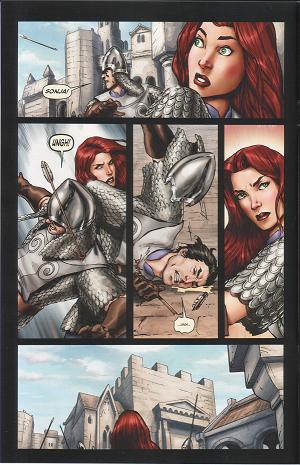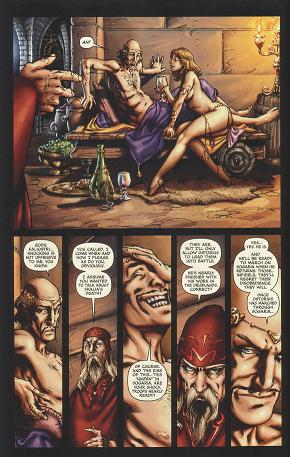 The whole "Queen" thing just seems to have magically happened, too. Maye they're planning to go back and explain how she became queen or maybe I skipped an issue without realizing it, but I'm a little lost. And since when does Sonja cover herself with armor (yeah, I know - she didn't start out with the bikini, but it has become her thing and I'm not liking the changes!) And don't get me started on the wolfmen at the end of the issue. Seriously?
I'm not going to abandon the title (especially if the
Lucio Parrillo cover
s continue to be so amazing), but I'm just saying it doesn't stack up as one of the better Sonja series that Dynamite has put out. Am I wrong? Is it really a good series and I'm just being an over-critical butthole? If so, tell me what I'm overlooking, because I don't get it.