Hello, please allow me to introduce myself. I'm Bart. Or Brett. I'll answer to either. And I'm a Sonjaholic. Actually, I'm more of a Conan fan, but my affection for Sonja grows daily
But enough about me.
I was perusing the wall of new comics today at my local comic shop and spied the three covers of issue 49. One of the three covers held little appeal for me (the one, obviously, that the shop owner had placed in my weekly pull), but the other two were very eye-catching. In the end, I settled for the darker one.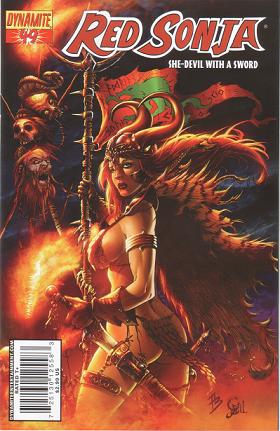 I'm still ten or fifteen issues behind in my Sonja reading - and just about every other title I follow - so I didn't realize that the cover I passed over was actually relevant to the issue (this I gleaned by flipping through the book when I got home).
Ah, well. It's still a pretty thing. Queen Sonja, maybe?