I'm probably the last guy on the short bus to discover the silliness that is
Dead Sonja She-Zombie with a Sword
, but I stumbled across this Sonja parody a couple of months ago on
Wowio.com
and have been meaning to mention it here, on the offchance that I'm not the only person who is unaware.
Here's a
comment from one of the three artists
involved (from way back in 2006 when the book came out):

Dead Sonja
I've been working on a comic for print lately, written by Rob Potchak Jr. and co-written by Keenspot's own Chris Crosby. It's a parody comic called Dead Sonja. It's gonna be published by Blatant Comics and it's a 48 page one-shot. The comic is drawn in three parts by three different artists, I'm the one responsible for the art for part 3. I'm close to finishing my part already, but I thought maybe I should start promoting the comic as well with a 2 page splash I just finished today. Check out October PREVIEWS, Diamond gave this comic a spotlight spot.

The art in the book is kind of uneven, as you might expect coming from three different artists, but has some really well-drawn panels and was available with three different covers (the
regular cover
, the
Bloodbath cover
, and the
Dead Sexy cover
).
This is one of my favorite panels from the book: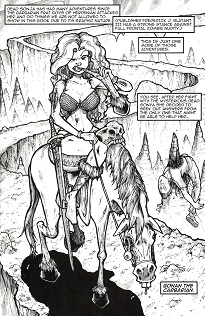 The story begins with a slightly skewed Sonja-origin story (quite a bit skewed from the origin of Sonja that we're all familiar with). The whole thing has sort of a Mad Magazine feel to it. The illustrations of the second part of the story are my favorite - they have a real Dave Cooper feel to them. There's even a Conan tie-in (Bonan the Carbarian) in this story. Sonja and Conan (Bonan) face off...sort of and do eventually fight it out. The
art in the last section
of the story isn't horrible, but it's my least favorite (the art belonging to the guy quoted above).
There are even brief Star Wars, Lord of the Rings (sort of), and Army of Darkness references in the book. It's a nerd-trifecta. Score!
You can still pick up a copy of this comic (the actual, physical copy) if you look hard enough. I haven't bothered to pick up an actual copy of the book yet, but I may put forth an effort at ComicCon this summer (if I remember). I've always got my eyes open for Sonja stuff at the con.